"I have achieved more in my time with ITEA than I ever believed possible! My student intern is thorough and always finds the root of the problem, then proceeds to give me the best treatment possible. …I love ITEA and it's caring, dedicated staff." -Robbie, Client
---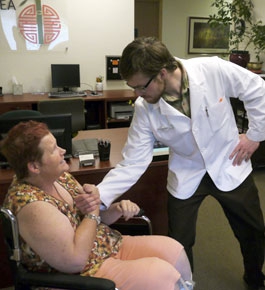 ITEA Clinic: Do Something Different!
A wide variety of people, ranging from children to the elderly, come for treatment at the ITEA clinic. Many have found acupuncture extremely beneficial where other forms of treatment have been unsuccessful.
Appointments:
Phone: (720) 890-1577
Clinic Hours:
Monday – Friday: 8 AM – 8 PM
Saturday: 10 AM – 4 PM
Rates:
Initial Appointment: $68 (3 hours)
Regular Appointment: $48 (2 hours)
Ask about our student discounts.
Location:
317 W. South Boulder Road, Suite 5
Louisville, CO 80027
Acupuncture as a Healing Discipline
The effect of Classical Five-Element Acupuncture (CF-EA) is not simply a relief from a specific condition or symptom, but an improvement in overall well-being, quality of life, and increased energy and vitality. This is particularly relevant for those who, while not feeling medically ill, are aware that they are unwell or out of sorts. CF-EA is a powerful healing discipline based on nature, and uses the natural energies in all living things to promote the body's ability to heal itself. Different from many forms of medicine, the cause of the symptom is addressed in treatment, rather than the symptom itself. CF-EA restores the balance of natural energy within, and harmonizes one's relationship with the world. Treatment is individual and takes into account the marvelous complexity and potential of each person.
ITEA's Clinic for Veterans
The ITEA Clinic is proud to serve our U.S. veterans, those currently serving in the U.S. military, and members of their households. For more information click here.
Excellence in Safety and Health
As a result of excellent OSHA inspections of ITEA's clinical
space and safety procedures, the college is the only acupuncture college in the nation to be nominated to receive OSHA's prestigious Safety and Health Achievement Recognition Program (SHARPS) membership, and who recently recertified for another 3-year period.
CONSIDERING ITEA?
ITEA CATALOG
For more information on a Masters in Acupuncture in Classical Five-Element Acupuncture please download the ITEA Catalog.