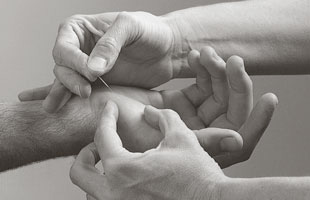 ITEA Program: Practitioner Track
Students attend four-day Weekends, once each month, in Louisville, Colorado for the duration of the program. They do assignments between Weekend sessions to deepen their knowledge and prepare for the next Weekend. Two seminars with Judy Worsley are held when possible. For an additional fee, students may also partake of other ITEA offerings from the Traditional Track also.
Classroom training consists of one four-day Weekend each month for nineteen weeks. The classroom Weekends focus on basic information and skills within CF-EA, and upon the sensory discernment necessary for its practice. Between Weekends students are required to do homework related to the material covered from the prior Weekend. Students are tested periodically and required to have a satisfactory understanding of prior work in order to advance in the program.  Clinical observation is obtained both through observation in the ITEA Clinic and through the students' own video projects.
Clinical training at ITEA follows for seven Weekends. Class members begin treating at the ITEA student clinic, with work evaluated and discussed each Weekend. After this time students may continue to treat either in the ITEA Clinic or at an offsite clinic where they live.  Work with a supervisor who is on faculty at ITEA follows until the student has the rest of the 510 hours, both assisting and observation, and is proficient in Classical Five-Element Acupuncture (CF-EA). The format is geared toward enabling students to work while in the program until they complete their graduate.  In order to graduate, all supervisors who have worked with a student shall be agreed the student evidences qualities of an excellent Classical Five-Element Acupuncture healer.  Students graduate individually, considering the number of clients they have and their preferred speed of working.  An average time with a supervisor after the seven weekends at the ITEA clinic is eight to fourteen weeks.
First Nine Weeks Content
The first nine weeks cover the fundamentals of CF-EA, principles and diagnostic skills, anatomical palpation and point location.
Content of Weeks Ten through Nineteen
We explore further into the acupuncture points and their locations, diagnostic skills, and the principles of good listening and relationship with clients. Elisabeth Rochat teaches the history and philosophy of Chinese medicine through understanding the Chinese characters.  Judy Worsley, Master of the CF-EA lineage, will teach for two days in depth (when available), and the students will be able to attend.
Further Clinical Content
Weeks twenty through twenty-six cover leadership, professionalism, interaction with other healthcare providers, specific treatment situations and clinical training in the ITEA Community Clinic. Additionally, students will be offered a seminar with Judy Worsley when she is available. Elisabeth Rochat teaches.
Ongoing Clinical Content
The final year program includes clinical training at the ITEA clinic or one of its offsite clinics with a faculty member where the student lives , and, if necessary, beginning preparation for the national acupuncture exam. Additionally, students will be offered a seminar with Judy Worsley, Master of CF-EA lineage (when available).
JOIN ITEA IN DOING SOMETHING DIFFERENT!
The study of Classical Five-Element Acupuncture can be challenging, and one can never know it all. There is always more to learn—a greater depth of understanding to be explored. Learning basic theory and technical facts is only a small part of becoming a Classical Five-Element acupuncturist. The sensory understanding of nature as a teacher is the real essence of the work. This learning cannot be explained through words, but must be experienced. Being a Classical Five-Element acupuncturist may be the most compelling thing you've ever done.
CONSIDERING ITEA?
FORMS
Admissions: Traditional Track
Admissions: Practitioner Track
ITEA CATALOG
For more information on a Masters in Acupuncture in Classical Five-Element Acupuncture please download the ITEA Catalog.