"My experience here at ITEA has been worthwhile and outstanding to say the least…. Part of this, I feel, is due to finding positive healing modalities having a tremendous affect on my physical body where my major stress is and complimenting my spiritual healing practices. … augmenting the growth of my inner connection to the divine [chi]." – Dr. David Hartman Turner
---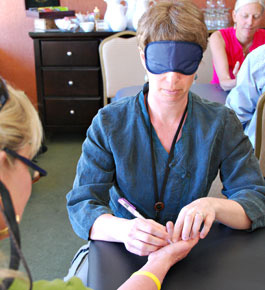 ITEA Program: Traditional Track
Students attend Intensives in Louisville once each quarter for the first and second years. They do assignments between Intensives to deepen knowledge gained during these Intensives. A student can live anywhere during this time. In the third and fourth clinical years all teaching is combined with training in ITEA's clinic, and students must live locally.
For all years, each student is required to have a satisfactory understanding of the prior years' course work in order to advance to the following year. The first two years of the program consist of four Intensive class sessions of 15 days per year. Intensives usually occur in September, October-November, January-February and April-May. During the first year students are taught basic facts, laws of nature, and concepts. While these are reviewed and learned in more depth in the second year, the focus at this time is on training in sensory discernment rather than intellectual activity.
Clinical practice begins in the third year and continues the learning and personal development of students through interaction with clients. The third year has two 16-day Intensives with interspersed short classes, one Intensive in August-September and the other in January-February. The fourth year is clinical experience, short classes and beginning preparation for the NCCAOM exam. Throughout the third and fourth years students continue written work, practice management and the practice of acupuncture skills. Students graduate upon fulfilling program requirements.
First Year Content
The first year covers the fundamentals of CF-EA, principles and diagnostic skills, anatomical palpation and point location, medical terminology, nutrition and pharmacology.
Second Year Content
In the second year we explore further into the acupuncture points and their locations, diagnostic skills, the principles of good listening and relationship with clients, and pharmacology and pathology. Elisabeth Rochat teaches the history and philosophy of Chinese medicine through understanding the Chinese characters.
Third Year Content
The third year covers practice management and leadership, professionalism, interaction with other healthcare providers, specific treatment situations, pharmacology, western medical testing and clinical training in the ITEA Community Clinic. Additionally, students will be offered a seminar with Judy Worsley, Master of CF-EA lineage (when available). Elisabeth Rochat teaches.
Fourth Year Content
The final year program includes clinical training, practice management, biomedical assignments and beginning preparation for the national acupuncture exam. Additionally, students will be offered a seminar with Judy Worsley, Master of CF-EA lineage (when available). Elisabeth Rochat teaches.
JOIN ITEA IN DOING SOMETHING DIFFERENT!
The study of Classical Five-Element Acupuncture can be challenging, and one can never know it all. There is always more to learn—a greater depth of understanding to be explored. Learning basic theory and technical facts is only a small part of becoming a Classical Five-Element acupuncturist. The sensory understanding of nature as a teacher is the real essence of the work. This learning cannot be explained through words, but must be experienced. Being a Classical Five-Element acupuncturist may be the most compelling thing you've ever done.
CONSIDERING ITEA?
FORMS
Traditional Track Admissions Form 2018
Traditional Track Enrollment Form 2018
ITEA CATALOG
For more information on a Masters in Acupuncture in Classical Five-Element Acupuncture please download the ITEA Catalog.