"I've been coming to the Veterans clinic for a year. I love my weekly session. The people are very friendly and willing to explain everything. I've had sleep problems my entire life. Since I started coming for acupuncture,
I get to sleep and stay asleep. The clinic is wonderful." – EK
---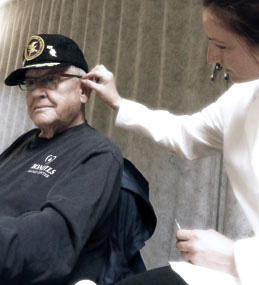 ITEA Veterans Clinic
The ITEA Clinic is dedicated to diminishing and alleviating veterans' stress, and encouraging wellness through the use of a simple ear acupuncture protocol offered in a group setting.
The ITEA Clinic is proud to be part of the national network of independent and locally-based free clinics — Acupuncturists Without Borders, and operates within the AWB guidelines.
Appointments:
No appointment or registration is necessary.
For your session:
bring a valid military/veteran ID
make sure you have eaten before receiving treatment
Clinic Hours:
Wednesday: 6 PM – 8 PM (arrive no later than 7:30 PM)
Rates:
Free for U.S. veterans, those currently serving in the U.S. military, and members of their households.
Location:
317 W. South Boulder Road, Suite 6
Louisville, CO 80027
(720) 890-8922
What You Can Expect
Treatments are those of the National Acupuncture Detoxification Association (NADA) ear protocol, proven to be extremely powerful in alleviating symptoms of treating acute stress and trauma. Participants are seated fully clothed. Interns place five tiny needles in each ear, using the NADA five needle ear protocol. Needles are sterile, for single use, and are disposed of immediately after removal. Participants are invited to close their eyes and sit quietly for 30–45 minutes as the acupuncture does its work.
Acupuncture is currently being provided at Walter Reed Medical Center in Washington, D.C. for returning veterans experiencing combat stress. The military is also using acupuncture on the battlefield to help relieve pain.
Benefits of acupuncture experienced by our clients include:  Improved mental clarity, focus, concentration and memory, increase in energy, improved sleep, reduced stress, reduced anxiety and irritability, alleviated hyper vigilance, flashbacks and nightmares, and improved mood and outlook.
HOW TO DONATE
ITEA is a 501(c)(3) non-profit corporation, and all donations are tax-deductible.
Donations to our Veterans' Clinic may be made through PayPal™ or by check, cash, stock, monthly pledges, multiple year pledges and memorial gifts. To donate online please click here:
To donate by mail:
ITEA
317 W. South Boulder Road
Suite 5
Louisville, CO 80027
For more information:
Ph: (720) 890-8922
Email: donate@itea.edu
CLINIC HISTORY
The Clinic was the vision of ITEA graduate Brad Austin, Class of 2007. In order to transform his vision into reality, he laid the groundwork and raised funds to support the clinic. Since its founding, ITEA students have helped to further define, implement, market and expand
our place in the community.
Each year, the Clinic grows to serve more veterans and their household members in our community.
The ITEA Clinic has been affiliated with Acupuncturists Without Borders since 2010.