"Attending ITEA was a life changing experience for me. I have more confidence, courage and a deeper sense of 'all is well', in a way I had not known before. …It is a joy and a privilege to now practice this wonderful medicine and support the healing process of the people who come to me." – Fern
---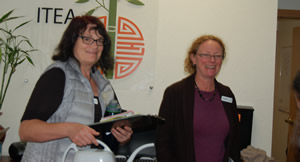 Donate: Support ITEA—Make a Difference Now!
Change the World — One Person at a Time!
The Institute of Taoist Education and Acupuncture is committed to the support of individuals in fulfilling their unique way of being, one which is aligned with nature and spirit, and one in which life can be best lived. As we enter our 22nd year of success, we wish to thank all our supporters, both financial and philosophical. This support has enabled ITEA to improve lives and produce graduates who then improve, exponentially, the lives of others. Together we are making a difference!
ITEA is an area center for education in Classical Five-Element Acupuncture (CF-EA) and philosophy. We offer classes in energy and human connections to nature to the community upon request. To acupuncturists, we offer continuing education. We also offer training in CF-EA to healthcare practitioners outside our tradition. Our free Veterans Clinic, under the umbrella of Acupuncturists Without Borders, meets weekly to support veterans' special needs. In forming partnerships with like-minded organizations, aligned with nature and the environment, we are able to further increase our impact.
Your support, whether as an individual, organization or foundation allows ITEA to continue to provide a high level of service to our community. Your generosity will support the ongoing healing presence of Classical Five-Element Acupuncture in Colorado and in the world for many years to come. In our first 18 years of graduations:
We graduated over 100 Classical Five-Element practitioners! At 20 clients per week, 2,000 clients are healing at this moment, making life better for themselves, and those they interact with.
94% of ITEA's graduates are actively practicing Classical Five-Element Acupuncture.
Very conservatively, the ITEA clinic has given over 6,000 treatments to over 1,000 clients.
300 reduced-rate treatments have been given to Veterans who now comprise 12.5% of new intakes. We are making a difference for those men and women who have served the country so well!
ITEA's free Veterans' Clinic, associated with Acupuncture Without Borders, has been in operation since 2006.
The college has grown from its original space in Louisville to a larger space in 2007, and in 2012 expanded to an additional building.
ITEA has been nationally accredited since 2006, and its students are able to obtain Title IV government loans.
Qualified students are able to obtain disability funding and VA funding.
Thank you for your support.
AVAILABLE FUNDING OPPORTUNITIES
Hold the Veterans Clinic for a day or for a year!
Buy a treatment room for a month or a year!
Sustain ITEA
Support the organization and its operating costs.
HOW TO DONATE
ITEA is a 501(c)(3) non-profit corporation, and all donations are tax-deductible.
Donations may be made through PayPal™ or by check, cash, stock, monthly pledges, multiple year pledges and memorial gifts. To donate online please click here:
To donate by mail:
ITEA
317 W. South Boulder Road
Suite 5
Louisville, CO 80027
For more information:
Ph: (720) 890-8922
Email: donate@itea.edu